Nomads Canteen in San Clemente Reopens
Nomads Canteen in San Clemente Reopens Doors
OAN Newsroom
UPDATED 8:01 AM PT — Monday, May 4, 2020
A restaurant in Orange County, California reopened its doors to the public despite the state's stay-at-home order. Jeff Gourey, owner of the Nomads Canteen in San Clemente, opened his business to patrons for the first time in over six-weeks over the weekend.
According to reports, the move was well received by locals as the restaurant was full to capacity shortly after reopening. Gourey said he reached out to city and county officials to let them know his plans and claimed no one stopped him.
When citing his reason to reopen, the restaurant owner said he had 25 employees on payroll and the canteen was just bringing in 10 percent of its normal profits through take-out orders.
OPEN FOR BUSINESS: Nomads Canteen in #SanClemente has defied state orders and reopened its doors to large crowds. No social distancing on patio deck. @KTLA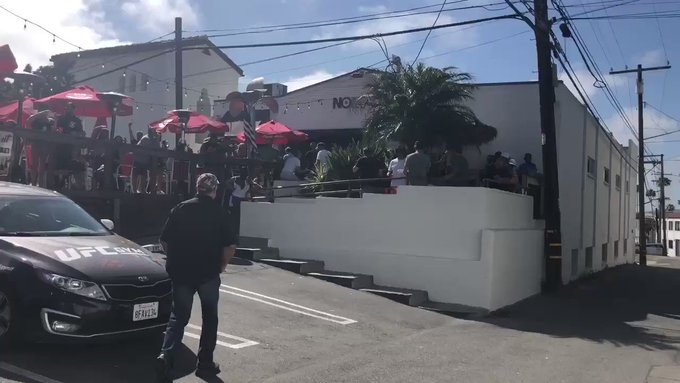 42 · Nomad's CanteenTwitter Ads info and privacy32 people are talking about this
"I'm emotional, its a bigger fight than for my restaurant, its for my people," he stated. "How long do we hide from it regardless? I mean, we cant stop working, we cant stop living."
Meanwhile, local reports said Gourey has been issued a warning for violating the governor's order, which could lead to a permit suspension if he continues to keep his doors open.Smort@SmortReport ·
Some Orange County restaurants and shops reopen despite statewide orders.https://www.ocregister.com/2020/05/02/some-orange-county-restaurants-and-shops-reopen-despite-statewide-orders/ …Smort@SmortReport
"People are saying I have blood on my hands and that their grandma is going to die," Nomads Canteen owner Jeff Gourley said of the backlash he's received online from some people. "But I'm not forcing anyone to come here. If you don't feel the way we do, just stay home."7Twitter Ads info and privacySee Smort's other Tweets