Best iPhones 2020: Which Apple phone should you get? Even as the best Android phones offer improved performance and features, Apple's iPhone still sets the standard for the smartphone market. That's continued with the trio of phones that Apple released during 2019, but it also presents a new challenge this year if you're in the market for one of Apple's smartphones: Which is the best iPhone you can get?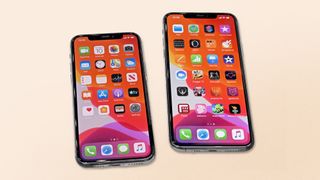 Best iPhones
(Image credit: Apple)
1. iPhone 11 Pro Max
2. iPhone 11
3. iPhone XR
4. iPhone 11 Pro
5. iPhone 8
6. iPhone 8 Plus
Based on our testing, the iPhone 11 Pro Max remains the best iPhone overall, thanks to its expansive screen and long battery life. But it's also the most expensive iPhone available with a starting price of $1,099.
For users on a tighter budget, the more attractively priced $699 iPhone 11 will be the phone to get — it's got the same processor found in Apple's more expensive iPhone 11 Pro models and its cameras can support the same photo features, even with just two lenses to the iPhone 11 Pro's three. There are some trade-offs with the iPhone 11, but for most users, the $300 in savings will be worth it.
Apple's $999 iPhone 11 Pro is a good choice for people who like compact phones, while bargain hunters will appreciate that the iPhone XR, iPhone 8 and iPhone 8 remain, at significantly reduced prices.
Based on our iPhone 11 testing, here's a closer look at all of the best iPhones you can buy right now — at least until new Apple smartphones arrive later this year.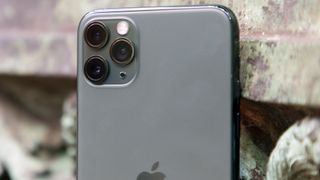 1. iPhone 11 Pro Max
The best iPhone you can buy
Screen Size: 6.5-inch Super Retina XDR (2688 x 1242) | Processor: A13 Bionic | Cameras: Triple 12MP wide (ƒ/1.8), ultra wide (ƒ/2.4) and telephoto (f/2.0)/ 12MP front (ƒ/2.2) | RAM/Storage: Unknown/64GB, 256GB, 512GB
Triple rear cameras with ultra wide lens
Excellent Night Mode
Brighter screen than iPhone XS Max
Best battery life on an iPhone
Faster A13 processor
Skimpy storage on base model
The most expensive iPhone
Apple says its iPhone Pro models are aimed at professionals who rely on their smartphone to get work done, though it's not going to stop you from buying the iPhone 11 Pro Max if you want the best smartphone available. We're particularly impressed by the iPhone 11 Pro Max's Super Retina XDR display, which outshines other big-screen phones. Even with that expansive 6.5-inch screen and the powerful A13 Bionic processor inside the 11 Pro Max, this model has the longest-lasting battery Apple's ever put in an iPhone. The iPhone 11 Pro Max lasted more than 11.5 hours on our battery test, placing it among the longest-lasting phones we've tested.
New cameras also highlight the iPhone 11 Max Pro, with a 12-megapixel telephoto lens joining the 12-MP wide and ultra wide angle cameras Apple includes on the iPhone 11. The extra cameras are appreciated, particularly when the iPhone shows a preview of what the ultra wide angle lens is capturing when you're shooting the main lens. But the real improvement comes from software enhancements like a new Night Mode that helps the iPhone 11 Max produce low-light shots that match what you get from the best camera phones.
We wish the iPhone 11 Pro Max came with enough storage to live up to that Pro moniker — the base model's 64GB is too skimpy. But other features like an included fast charger and durable design make the iPhone 11 Pro Max the choice if money is no object.
Read our full iPhone 11 Pro Max review.
2. iPhone 11
An affordable flagship with few trade-offs
Screen Size: 6.1-inch LCD (1792 x 828) | Processor: A13 Bionic | Cameras: Dual 12MP wide (ƒ/1.8) and ultra wide (ƒ/2.4)/ 12MP front (ƒ/2.2) | RAM/Storage: Unknown/64GB, 256GB, 512GB
Affordable price
Excellent dual cameras
Great battery life
Six color options
Faster A13 processor
LCD display
64GB of storage in base model
No fast charger included
The iPhone 11 replaces the iPhone XR as the iPhone for everyone, and it lowers the starting price as part of the bargain. While the iPhone XR debuted at $749 in 2018, the iPhone 11's starting price has dropped to $699 — a full $300 lower than what Apple's Pro series iPhones currently cost.
Even better, the trade-offs you make for that lower price are minimal. The iPhone 11 has the same A13 Bionic processor found in the iPhone 11 Pro, and its performance is on par with Apple's pricier phones (and still well ahead of the top Android handsets). You are giving up a telephoto lens, as the iPhone 11 features a 12-MP wide angle and ultra wide angle shooters, but it's capable of the same camera effects as the iPhone 11 Pro, including portrait shots, ultra wide angle selfies and Night Mode for better low-light photos. You can also expect more than 11 hours of battery life from the iPhone 11, even if you'll have to spring for your own charger to take advantage of the phone's quick charging support.
See our full iPhone 11 review.
3. iPhone XR
The iPhone for bargain hunters
Screen Size: 6.1-inch LCD (1792 x 828) | Processor: A12 Bionic | Cameras: 12MP (f/1.8)/ 7MP front (2.2) | RAM/Storage: 3GB/64GB, 128GB, 256GB
Very long battery
Sub-$600 price
Same powerful processor as those phones
LCD screen is big and bright
No 2x optical zoom
Bigger bezels than more recent iPhones
The iPhone XR is proof you don't have to pay top dollar to get a great flagship phone from Apple, and now that the price has dropped to $599, it's an even better buy. The XR has an LCD panel, not the OLED screen found in the more expensive iPhones, and you'll have to get by with just a single rear camera while the similarly sized iPhone 11 features two lenses. But for many users, those won't be significant sacrifices, especially in light of what you get in return.
Though the newer iPhone 11 models have a faster processor, the A12 Bionic powering the  iPhone XR still outperforms many top Android smartphones. The iPhone XR also gets great battery life — on par with our iPhone 11 test results and only 15 minutes behind the iPhone 11 Pro Max's 11 hour, 40 minute result. And if you value design, you'll appreciate the rainbow of colors the iPhone XR comes in. The iPhone XR isn't very compact, but it delivers a great balance of price and performance, even with the iPhone 11 delivering more features.
See our full iPhone XR review.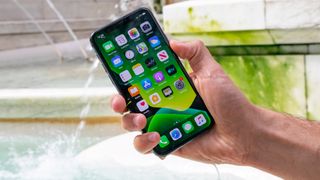 4. iPhone 11 Pro
Great triple cameras in a compact design
Screen Size: 5.8-inch Super Retina XDR (2436 x 1125) | Processor: A13 Bionic | Cameras: Triple 12MP wide (ƒ/1.8), ultra wide (ƒ/2.4) and telephoto (f/2.0)/ 12MP front (ƒ/2.2) | RAM/Storage: Unknown/64GB, 256GB, 512GB
Fantastic triple rear cameras
Excellent Night Mode
Faster A13 processor
Brighter OLED display
More durable design than before
Skimpy storage in base model
Shorter battery life than iPhone 11, iPhone 11 Pro Max
A bit heavier and thicker than iPhone XS
Between the iPhone 11's low price and the iPhone 11 Pro Max's giant screen and equally large battery life, it might be tempting to overlook the iPhone 11 Pro. But if you value phones that fit comfortably in the hand, this 5.8-inch device is the perfect iPhone for you. That screen is the same Super Retina XDR panel found on the 11 Pro Max, so you'll get a seriously bright display with wide color support. You'll enjoy the same three camera setup featured on the iPhone 11 Pro Max, too.
In fact, apart from battery life — which could be a lot better on the iPhone 11 Pro — you're getting a lot of the same features found on the 11 Pro Max, such as an included fast charger, faster modem, and the ability to survive a plunge in up to 4 meters of water. All that comes in a more compact phone, which for fans of smaller devices, will be the best feature of all.
If it's the compact size of the iPhone 11 Pro that appeals to you, be aware that Apple could soon release a smaller phone, which will either be called the iPhone SE 2 or the iPhone 9. It's expected to be about the same size as the iPhone 8, but feature the A13 Bionic processor of the iPhone 11 Pro; it could also have a very low price tag based on reports of Apple's 2020 product launch plans.
Read our full iPhone 11 Pro review.
5. iPhone 8
A good value — and the best iPhone for kids
Screen Size: 4.7-inch LCD (1334 x 750) | Processor: A11 Bionic | Cameras: 12MP (f/1.8)/ 7MP front (f/2.2) | RAM/Storage: 2GB/64GB, 256GB
A11 Bionic processor is still pretty fast
Compact phone appeals to people who dislike larger devices
Now the cheapest iPhone
Just one camera
Low-resolution display
Big bezels
The most compelling thing about the iPhone 8 is its low price: at $449, it's the cheapest iPhone you can get without turning to a refurbished model. But that's not to sell this older phone short. Its A11 Bionic processor may not be as powerful as more recent Apple-built chips, but it's still perfectly capable of handling most apps. Fans of smaller phones may appreciate the 4.7-inch LCD screen on the iPhone 8, especially with the size of Apple's phones inching ever upward.
But we keep coming back to that $449 price, which is a cheap gateway into the iOS ecosystem, and the many available iOS apps, especially since the iPhone 8 can run easily iOS 13, the latest version of Apple's mobile operating system. This is the handset to get when you're ready to trust your teenager with a smartphone and a cheap Android phone simply won't do. The iPhone 8's IP67 rating also means that it should withstand any drops into less than 3 feet of water.
Be aware that a new version of the iPhone SE, rumored to be coming out this year, could also adopt this compact size. This updated iPhone SE — which may debut as the iPhone 9 — could also come in at the same price as the iPhone 8, or even cheaper if it matches the original SE's $400 cost.
See our full iPhone 8 review.

6. iPhone 8 Plus
Great price for big screen and dual cameras
Screen Size: 5.5-inch LCD (1920 x 1080) | Processor: A11 Bionic | Cameras: Dual 12MP wide (ƒ/1.8) and telephoto (ƒ/2.8)/ 7MP front (ƒ/2.2) | RAM/Storage: 3GB/64GB, 256GB
Good dual rear cameras with optical zoom and portrait mode features
A11 Bionic processor still performs well
Less expensive than newer iPhones
Impressive battery life
Dated design
Fast wireless charging costs extra
Like the iPhone 8, the iPhone 8 Plus debuted in fall 2017, and it's your best bet if Apple's current lineup of notched display phones don't set your heart racing. You won't get the latest and greatest processor in the 8 Plus, but the A11 Fusion CPU still packs some performance punch. You'll also lose out on features like Face ID unlocking and Animoji, which are only possible with the TrueDepth front camera on Apple's newer phones.
But the iPhone 8 Plus does offer two rear cameras capable of pulling off superior portrait effects. This model also supports lighting effects, which Apple introduced to its 2017 iPhones. Best of all, opting for the iPhone 8 Plus gives you a way of beating the high cost of iPhones, with the phone available for a reduced price of $549.
See our full iPhone 8 Plus review.

How we test iPhones
As with any smartphone we test at Tom's Guide, we evaluate iPhones for days in real-world use cases. We also benchmark Apple's phones using a gamut of performance-measuring apps. We use a light meter to ascertain display quality data, like brightness and color accuracy, and our proprietary battery test determines longevity on a charge by endlessly streaming webpages over an LTE network. We explore Apple's iOS improvements, test gaming performance and conduct live camera comparisons with rival handsets — and each of these factors play a part in our final verdict.
What iPhones cost
Apple's most recent iPhones start at $699 for the iPhone 11, with prices spiking upward for the iPhone 11 Pro ($999) and iPhone 11 Pro Max ($1,099). Those base prices get you a phone with 64GB of storage. If you want more capacity, be prepared for that price tag to go up. A 256GB iPhone 11 Pro will cost you $1,149, for example, while the 512GB model brings the price to $1,349.
When Apple releases new iPhones, it cuts the price on the models it keeps around. The iPhone XR now costs less than $600 and the iPhone 8 and 8 Plus are even cheaper.
MORE: Best iPhone Deals Right Now
While iPhone sales have grown recently, Apple still wants to convince you to upgrade from your holder handset. Not only can you opt for monthly payments when you buy a phone through Apple, the company also now offers a trade-in program to lower the cost of your iPhone purchase. (Apple Card owners can also pay off the phone in installments using their Apple-backed credit card.)
Currently, you can get an iPhone 11 for $449, or $18.70 a month, when you trade in an eligible iPhone. Trade-ins reduce the cost of the iPhone 11 Pro to $679, or $28.29 a month. (Sadly, those rebates aren't as steep as they were at the start of the year, as Apple adjusted trade-in values for older iPhones.) You'll need a very recent iPhone to get that kind of a price cut — an iPhone XS or XS Max — but older models will also reduce the cost of your new iPhone purchase, though not as dramatically.
Apple may not offer discounts apart from rebates for trade-ins, but you may be able to find iPhone deals at wireless carriers. While some carriers also turn to trade-ins to lower your cost, in other cases, you can get a second phone for free when you buy a particular iPhone model. Wireless carrier discounts usually come in the form of bill credits, tying you to that carrier for two years or more.
Keep up on the latest iPhone deals to see how you can save on Apple's phone.
When should you buy an iPhone?
The best time to buy an iPhone is in the fall, right after Apple's annual iPhone event. That's when the new models are widely available and when Apple has cut prices on the older iPhones it's keeping around (the iPhone XR and iPhone 8 and 8 Plus, in this latest round of updates).
Apple rarely cuts prices on its iPhones during the year. Instead, as we noted above, you're more likely to find deals from wireless carriers in the form of trade-in rebates or buy-one-get-one-free offers.
We expect Apple to release the iPhone 12 — or whatever the company decides to call its 2020 iPhone models — sometime around September. The iPhone 12 is expected to feature 5G connectivity. The closer we get to that rumored fall launch — and the greater the importance you place on 5G — the more sense it makes to wait for the iPhone 12.
Fans of compact phones like the iPhone SE may want to pay attention to the first three months of 2020. Some analysts expect Apple to introduce a new version of the iPhone SE then; it would have the iPhone 8's form factor, but feature the A13 Bionic processor found in the iPhone 11 lineup; another rumor suggests a 5.5-inch model could follow later this year or in early 2021. We're keeping track of the latest iPhone SE 2 rumors, including a report that claims Apple may call this device the iPhone 9.
The best iPhone camera accessories
The iPhone has one of the better cameras you'll find in a smartphone, but you can make your shots look even better with the right accessories. Here are our picks for the best iPhone lenses and the best iPhone tripods.